Home Greenovations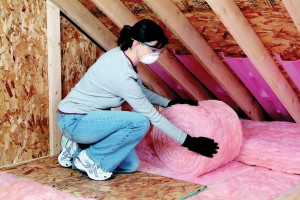 Making your home more energy efficient….for free!
There are many reasons why homes are less efficient than ideal, with the most common excuse being cost.  Despite potential long-term savings in making a home greener, people often balk at having to spend money to make this happen.  Well, for all you penny pinchers wanting to save money on your energy bills with no upfront costs, we've got the ultimate project for you.
One of the first home reno projects we're subjecting our 1970s home to is an attic insulation upgrade.  Like many Vancouver Island homes of this vintage, ours was built with minimal attention towards energy savings and the attic insulation is relatively paltry.  If you peer into our attic you'll see a layer of blown in cellulose insulation about 3.5 inches deep, which according to our home energy audit provides an R-value of 11.9.  R-value is a measure of how well something insulates: the bigger the value, the better the insulation.  BC Hydro recommends an R-value of at least 40 for our region.
We decided to up our attic insulation from R11.9 to R52, which more than quadruples it.  This should, according to BC Hydro, cut 20-60 percent on our heating bill, meaning we will save $2000-$6000 over the next ten years.   But the cost savings are much more immediate than that.
By exploring the numerous grants and incentives provided by the Canadian government we learned that the upgrade would be entirely free even before factoring energy savings. Rebates are offered by several bodies, and each one varies depending on the scope of the project and other factors.   For those in a similar situation, with mediocre insulation presently in the attic, this is your winning lottery ticket.  Let's celebrate, keep the money secret from friends and family, and start insulating.
Here's how you too can insulate your attic for free:
First, we saved money by doing the job ourselves.  We decided to lay bat insulation over the cellulose insulation because it's equally effective and an easier DIY project than adding blown-in insulation. It's a simple task and there are plenty of online resources outlining the process.
We further shaved costs by buying the insulation on sale, bringing material costs down from $919.40 to $735.52.  Like a few other green renovation items, provincial sales tax is not charged although GST still is.  The total cost was $772.29.
Now here come the rebates:
We are able to claim $600 from the federal rebate and $190 from the provincial rebate for enhancing attic insulation (more info at http://www.livesmartbc.ca/).  This means we've just made $54.48!  We will also receive a 10 percent rebate from the cost of our CMHC mortgage insurance (more info at http://www.cmhc-schl.gc.ca/en/co/moloin/moloin_008.cfm ) with the cumulative energy improvements we have made to the home.  This is contingent on improving the home's efficiency by five points on the enerGuide scale of which the attic insulation is a part of.
Another rebate currently available is the 15% home improvement rebate from the federal government (unfortunately the materials for our project were purchased before this was available).  This is applicable for any home renovation projects. Hang on to your receipts (for both materials and labour) and you will receive a rebate on all expenses over $1000 up to a maximum of $10,000 (maximum refund of $1350.00).  This rebate is maximized by lumping a number of improvement projects, since expenditures under $1000 are not applicable.
The latter rebate is straightforward to obtain, while the energy efficiency grants involve more planning.  It is necessary to have an energy audit conducted on your home before you commence the changes and after so the improvements can be verified and quantified.  The federal government will cover the cost of the second audit, but the homeowner is responsible for the first (about $150).  The cost of this audit is further defrayed by increasing the number of home improvements to take advantage of additional grants and rebates.  Money is available for a host of energy improvements from upgrading windows to installing more efficient water heaters.  A home energy audit is a very informative process, and the auditor will be able to offer useful information on the most effective ways to improve your home's efficiency.
We hope this article illustrates that going green doesn't have to be a selfless process.  If you want to increase the value of your home, save significantly on your heating bills and be more comfortable then go on and make those improvements.  Pick those low-hanging fruit and improve your world and the world around you.