Two if by sea (and canoe and rowboat and bicycle): [National Edition]
DOBBS, KILDARE. National Post; Don Mills, Ont. [Don Mills, Ont] 26 May 2007: WP17.
The great journeys have been made, the great voyages accomplished, the whole Earth explored pole to pole from stratosphere to the abyss of ocean. Magellan and Drake circled the globe, Cook discovered a continent, Amundsen reached the North and South poles, Humboldt penetrated the rain forests of South America, Philby, Thomas and Thesiger crossed the Empty Quarter of the Arabian desert, Tenzing Norgay and Hillary climbed Everest, the roof of the world.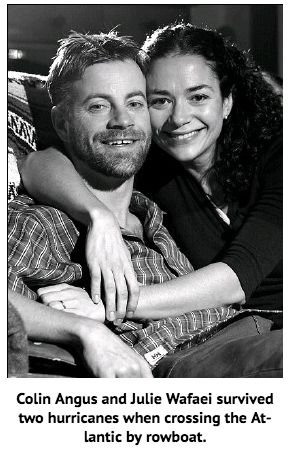 Later adventures are stunts, often performed for publicity, like Henry Stanley's crossing of Africa in search of Dr. Livingston, who was not lost. But these stunts can still be high adventure in which frail humans pit themselves against the elements and vast spaces of the Earth. The violence of oceans and extremes of climate still offer formidable challenges to spirited adventurers. Such valiant spirits are Colin Angus and his partners, especially his fiancee, the brave Julie Wafaei, who joined Angus in Moscow, travelling with him from Moscow to Vancouver to become the first and only woman to have rowed unsupported across the Atlantic in an open boat.
Angus, the first man to go around the world under human power, on foot and by bicycle, canoe and rowboat, across three continents and two oceans, planned, raised funds and persisted in the expedition through the sub-zero frosts of Siberian winter and the worst recorded hurricane season in the Atlantic. Already a veteran of hazardous adventures — five years at sea, mostly sailing alone; then rafting down the entire Amazon and Yenisey rivers –he authored books, articles and documentary films. Youngest of a poor family of four on Vancouver Island, he had worked and saved to acquire a yacht at 19. Tim Harvey, his partner for thousands of kilometres across the Bering Sea and into Russia, came from wellto- do parents in Shaughnessy Heights, Vancouver, his father a lawyer and mother a dentist. The two young men parted company in Siberia, where they'd taken on an extra partner, a strong young Russian woman called Yulya (tout court) who, it seems, slowed Harvey to a more leisurely pace than Angus thought wise. He was probably also spooked by Yulya's excessive piety and sanctimonious religiosity. Angus planned to forge ahead alone and wait in Moscow for his friends to catch up, where he'd raise funds and plan the second half of the great journey. He gave Harvey twothirds of the cash he was carrying and forwarded valuable equipment to Yulya's family in Yakutsk, where he'd collect it on his way.
Angus's fiancee, Julie Wafaei, meanwhile was administering the home base with marked responsibility. Wafaei is a highly qualified molecular biologist born in Toronto of a Muslim father and Christian mother, and an outstanding researcher, athlete and traveller. When Harvey and Angus parted ways, and Angus was denied access to his own property held by Yulya's mother in Yakutsk, Wafaei threw up her job and flew to Moscow to become Angus's partner. She helped with the planning and with the fundraising– which produced zilch because of the adverse publicity the split had stirred up. In the end, Angus's brother ponied up an interest-free loan of the necessary $50,000. (Obviously Colin is not the only overachiever in the family.)
Wafaei proved to be a brilliant traveller. "The qualities I loved about Julie," Angus writes, "were her determination, her strength, and her ability to solve problems in a rational and intelligent manner." Her mental balance was the ideal corrective to Angus's tendency to paranoia and anxiety.
The couple cycled together to Lisbon, where they took over their specially designed rowboat, fitted with sliding seats and featherweight oars, and rowed for five months across the Atlantic, surviving two hurricanes and a narrow escape from being run down by a big ship. Angus acknowledges the steadying influence of his splendid partner. Landing at Limon in Costa Rica, they cycled to Vancouver. The 43,000-kilometre journey was over.
Angus writes fluently, especially about the excruciating hardships he suffered. He gives good hurricane, too. His book is a great read. Next year will be Wafaei's turn, with her own story of the adventure. I look forward eagerly to it.
It's good to know that we have young compatriots of this calibre. They've been honoured in various ways, and richly deserve it. And, of course, much of their glory reflects on their country.
Somewhere in my library there's a book by an American who travelled round the world on land on a penny-farthing bicycle, armed with a pistol. The need for a weapon is a distinctive mark of U.S. citizenship. Our own brave adventurers carried heavy cameras.
The happy ending is that Wafaei and Angus have found a good place to set up house on Vancouver Island. They plan to be married on Aug. 11.
When the sailor was done voyaging he walked inland with an oar on his shoulder. Arriving in a place where no one knew what an oar was, he settled there.
But one doubts that the days of adventure are over for these valiant young people.