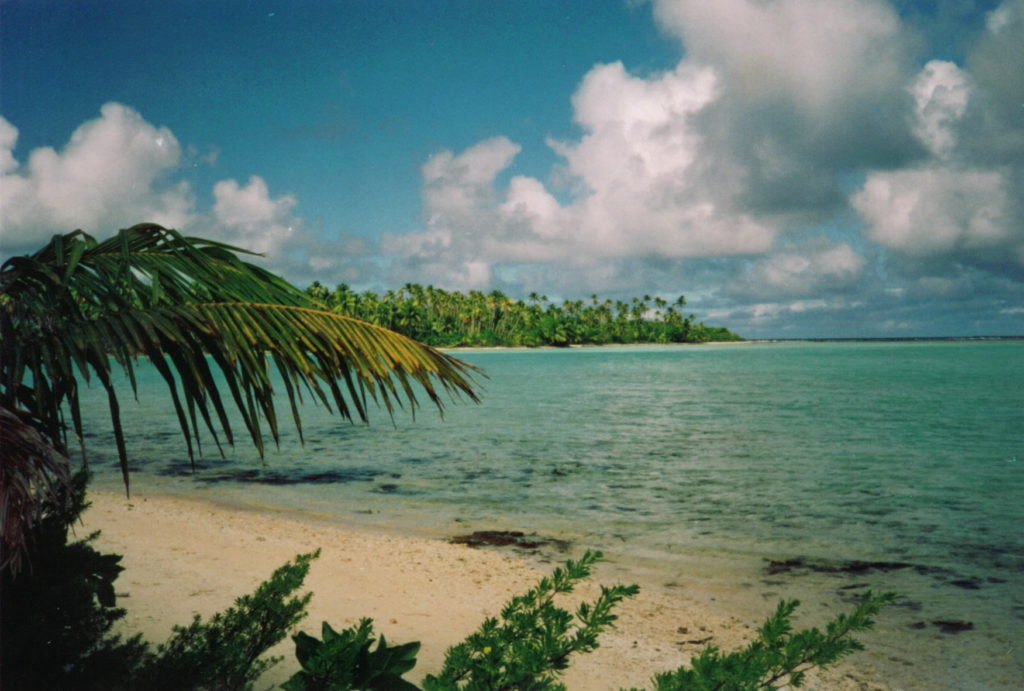 Colin spent five years (three of them solo) sailing a small boat across the Pacific Ocean. It was an odyssey that began in Canada and ended 20,000 km later in Papua New Guinea. It was never meant to be an expedition – just an adventurous lifestyle that fulfilled a boyhood dream. Below Colin shares what it took to get this ambition off the ground, and the beginning of the voyage.
As a boy I read the book Dove which details the voyage of Robin Lee Graham, the youngest to sail around the world solo. The vivid descriptions of tropical islands, exotic people and stormy oceans captured my imagination, and I decided that I too would one day buy a sailboat and head out to sea.
Money was scarce back then, and I acquired two paper routes as the first step in reaching my goal. By grade eleven I had saved enough to purchase a '14 Enterprise sailboat which allowed me to start learning the basics of sailing.
A high school friend, Dan Audet, expressed interest in my plans, and it wasn't long before we began planning the voyage together. After completing high school, Dan and I worked hard at various jobs including tree planting and fishing, and it wasn't long before we had saved up enough to buy the decrepit 27' sailboat, Ondine.
We spent several months making Ondine seaworthy – overhauling the single cylinder diesel engine, replacing the companionway, inspecting and repairing the hardware, etc. With a limited budget, we needed to acquire a sound knowledge of offshore sailing as cheaply as possible. We sailed in local waters putting into practice what had been gleaned from library books. This was augmented with a three-day sailing course on coastal cruising.
On July 1st, 1992, at the ages of 18 and 20 respectively, Dan and I sailed away from our hometown of Comox on Vancouver Island. Many in the farewell crowd of family and friends later admitted that they felt they might be saying goodbye for the last time. The fact that neither Dan nor I, had any offshore experience, and that each had inputted only $8000 into the project, seemed a formula that strayed from convention; easily perceived as a recipe for disaster.
We, on the other hand, felt confident as we sailed for the first time into the exposed waters of the Pacific Ocean. I knew the boat was seaworthy, and everything else came down to our own actions.
The first leg was a non-stop run along the storm-tossed coasts of Washington and Oregon towards San Francisco. Thirty-foot waves and forty knot winds buffeted the boat and we were exhausted, having to steer non-stop. Unfortunately, luxuries such as self-steering systems didn't fit into the budget.
San Francisco was reached in 12 days, and Dan and I immediately began working odd jobs on boats to fatten up the kitty and to allow a few luxury purchases such as an Aries Steering vane (autopilot) and fresh vegetables.
After spending six weeks in the shadow of the Golden Gates Ondine was ready to head back out to sea. We decided to take on extra crew for the leg down the Californian coast to help cover expenses. Notices were posted in the local youth hostel and it wasn't long before two young British ladies were recruited.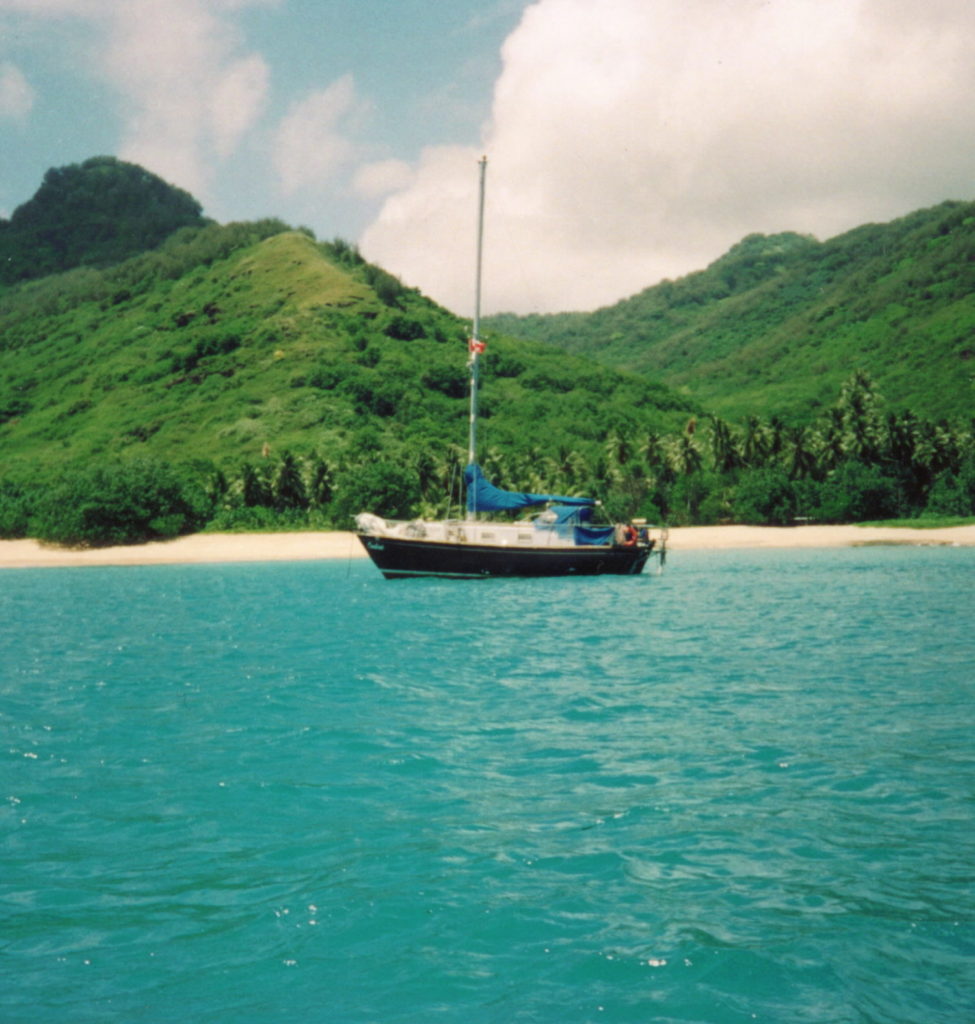 A few hours after departing from San Francisco, Ondine was becalmed in pea soup fog and an enormous rolling swell. The engine wouldn't start and the small vessel rolled and heaved in the middle of a shipping lane while the non-stop bellowing of freighter foghorns seemed a premonition for disaster. Visions of tailwinds, sunshine and margaritas soon dissipated for our new crew, and they spent the night throwing up over the side. The following day, after a westerly wind finally began moving the boat, the mutinous Limeys were released in Santa Cruz
Santa Cruz is renowned for its surfing and sandy beaches. Here we found three more women – two Swiss and one English – looking to sign on as crew. With her engine fixed, an overloaded Ondine enthusiastically chugged back out to sea.
As Ondine rounded Point Conception she was assaulted by the biggest storm to hit the coast in months. The new crew, showing much more resilience than their predecessors, took the storm in stride, and merrily participated in a Hallowe'en party involving a bottle of rum, a crushed pumpkin, a tinny car stereo, and couple of half-assed pirate costumes.
After saying goodbye to our new comrades in Los Angeles, Dan and I continued southwards until reaching Cabo San Lucas at the tip of the Baja Peninsula in Mexico. From here we would say goodbye to North America and sail SW on a non-stop 33 day passage to the tropical Marquesas Islands. We packed enough rice, beans and fishing gear to subsist on our long ocean crossing. Ondine would pass within several miles of a point on the Pacific Ocean which is the farthest you can get from land anywhere on Earth.
Cruisers in Mexico had warned us that it is necessary for all sailors to post a bond with French Polynesian immigration upon arrival which is equal to the cost of flying the crew out of the country (so the government isn't left footing the bill if the boat sinks). Unfortunately this was $3000 more than we possessed.
As Ondine slowly made her way across the Pacific Ocean towards a distant idyll, we were haunted by the fact that we might be turned away upon reaching port. Our only hope rested on a rumour we had heard back in Mexico;
Apparently official policy with French Polynesian customs was that the bond could be paid by credit card (which neither Dan nor I possessed). Due to the fact that the remote immigrations outpost on the Island of Hiva Oa had no credit card processing facilities, it was rumoured they would issue an entry permit if one tried paying with plastic, and insist on the payment being made later upon reaching the more developed islands in the south. Dan and I had a plan that we hoped might allow into the country.
After a month out at sea, the rugged outline of the Marquesas Islands appeared on the horizon. Jagged jungle-cloaked spires reached for the sky, and the smell of coconuts and frangipani flowers filled the air as we rounded into the lee of Hiva Oa.
Shortly after staggering onto the volcanic sands, we were ushered into the immigration office. The stern faced official looked at our passports, boat papers, and finally broached the dreaded question: How would we pay the $3000 bond?
We glanced nervously at each other and began our carefully rehearsed ruse.
"We'll be paying by credit card," Dan said, as he reached into his pocket and slowly withdrew his wallet.
The official waved his hand, "We cannot process credit cards here. I will issue you an entry permit on condition that you pay the bond immediately upon reaching reach Tahiti."
Minutes later we were back outside with freshly stamped passports and ready to celebrate. We would visit Tahiti on our departure, so the bond wouldn't need to be paid. At last, the vision that had fueled us for so many years was finally a reality. We had reached the South Pacific Islands and had been granted permission to explore these tropical jewels freely.
With a boat at our disposal, a cruising playground, a fishing rod and sixty dollars between us, we were ready for some fun.