Colin and Julie are best-selling authors of six books based on their adventures.  They have also produced several award-winning documentaries. Please click on the links below to find out more about their books and associated films.
Julie and Colin have written six books, numerous magazine articles and have produced several documentaries.
Inspired by her Syrian forebears' intimate relationship with the olive, Julie Angus embarks on a voyage around the Mediterranean to unlock the secrets of the fruit that meant so much to them.
Two bestselling authors combine their strengths in a travelogue, a search for roots, a romance — and a seat-of-your-pants adventure.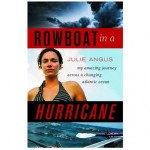 In 2005-06, Julie Angus rowed 10,000 kilometers across the Atlantic Ocean, becoming the first woman in the world to travel from mainland to mainland in a rowboat. She was accompanied by her fiancé at the time, Colin Angus, who was completing a round-the-world expedition using human power only.
In June, 2004, Colin Angus left Vancouver on his bicycle. Nearly two years later, he rolled back in, looking like a castaway, and having completed the first human-powered circumnavigation of the globe. Angus cycled, skiied, and rowed a route that took him to Alaska, across the Bering Sea and the Siberian winter, across Europe from Moscow to Portugal, then across the Atlantic to Costa Rica–a 156-day rowing odyssey. From there it was a short 8,300 kilometre ride back to Vancouver.

From the Yenisey's headwaters in the wild heart of central Asia to its mouth on the Arctic Ocean, Colin Angus and his fellow adventurers travel 5,500 kilometres of one of the world's most dangerous rivers through remotest Mongolia and Siberia, and live to tell about it.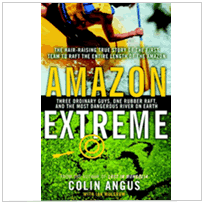 The hair-raising true story of the first team to raft the entire length of the Amazon. To a trio of twenty-something adrenaline junkies, it sounded like an irresistible challenge: Tackle the Amazon with nothing more than a rubber raft between them and fate.