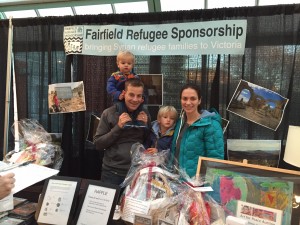 As some of you are aware, my uncle and his wife and three kids have been enduring the civil war in Aleppo, Syria. Their apartment block was situated on the frontlines between government forces and rebels. Bomb blasts, dead bodies and violence was their new reality. The windows in their apartment were blown out, and finding food was a struggle. Finally, when the one other remaining family in their apartment complex was killed by an errant bomb, they decided it was time to leave Syria. My uncle, along with his sister (my Aunt), and the rest of their family packed a few meagre possessions, and made the perilous journey to Turkey.
It was about eight months ago when they arrived in Turkey. Despite our efforts to bring them to Canada, the Canadian government at the time was not open to such possibilities. Fortunately, the German government offered them asylum, and the entire family was given the opportunity to start a new life in Germany. My aunt was thrilled at the possibility of finally seeing her two sons (my cousins) again, who had previously made the journey to Germany on their own (one of them smuggled in a raft across to Greece).
Unfortunately, the dream of starting a new life in Germany was not to be. When they were in the Turkish airport ready to board their plane, ornery Turkish customs officials changed their lives forever. They deemed that their documentation was fraudulent (which it wasn't) and confiscated their passports and German visas.
Without passports and money, my family was at a dead end. My aunt decided to make the dangerous journey back into Aleppo on her own to try to cash in her pension (she'd worked as an English teacher) and get new passports. Unfortunately, she was only able to get her own passport, although she was successful in obtaining more cash.
Travelling back from Aleppo is not easy. My aunt relied on expensive smugglers to take her through Isis-controlled territory. She was with a group, and while they were traversing a mine field she broke her ankle. The group abandoned her and she was alone, surrounded by mines. Fortunately, when the head smugglers heard of her predicament, they sent in personnel to help her to the safety of Turkey.
Unfortunately, my family was unable to get new German visas, and they have been living in limbo in Turkey for the past several months. They have been covering their basic living costs with my aunt's savings along with assistance from my father who lives here in Canada.
My family's remarkable story is similar to that of millions of Syrians, the only difference is they are not anonymous masses viewed through a TV or newspaper. They are family. When Colin and I visited them on our journey rowing from Scotland to Syria, they showered us with hospitality; they are some of the loveliest people I have had the pleasure of spending time with.
We decided we wanted to do something to help Syrian refugees. Along with other members in our community we formed a constituency group to privately sponsor Syrian refugees to come to Canada and decided  to bring my family to Canada. At first this seemed nearly impossible. We needed to raise $55,000 and fill out reams of paperwork. Our constituency group partnered with the Inter-Cultural Association of Greater Victoria, an organization that helps refugees and would help us navigate the bureaucracies. Our group, called Fairfield Refugee Sponsorship, has 16 talented and hardworking members. We've organized fundraising events, collected in-kind donations and attended workshops on how to help Syrian refugees make Canada their new home.
As we've worked on this project and witnessed countless acts of generosity and support, it has made me prouder than ever to be a Canadian. Canada is a country that celebrates its diversity and multiculturalism like no other, and I have experienced firsthand how one of our greatest strengths is helping those in need. As a second-generation Syrian Canadian I know from my own experiences that my family will be welcomed, and will soon become a part of our rich Canadian fabric.
I'm pleased to say that the generosity has been so great that not only have we raised enough to bring my own family over, we now have almost enough to sponsor a second Syrian family. Thank you Canada!