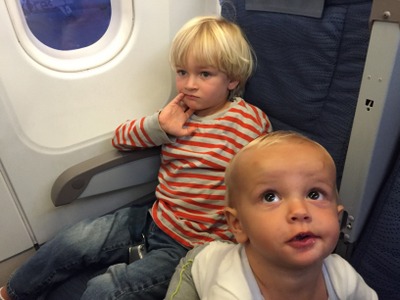 This summer we took our two kids, age 1 and 4 years to Germany and Scotland. It was a visit-the-rellies tour, meant to introduce our munchkins to far flung relations, while taking advantage of reduced fares for infants.
Flying across a country let alone to another continent with wee-ones can be a challenge, so brace yourself and be prepared. There are many things you can do to make the ordeal a little less arduous.
Pick a special meal. When you book your ticket you'll have the opportunity to select a meal preference if you want or need something different to the standard fare. This is a good idea for a couple reasons. Your special meal usually gets served first, so even if you're in the back seat you'll be eating when first class does. And kids' meals don't arrive by default – these also need to be ordered in advance as a special meal. Kids are more likely to eat the kids' meals than adult meals, so it's definitely worth the effort. And even if you're not Jewish or Muslim you can still order a gluten-free, kosher or halal dish.
Ask about extra space, especially if you're travelling with a child on your lap.  When you board or at the check-in counter, ask the flight attendant if there are any extra seats.  If there are, you may get moved or if a passenger is seated next to you they may move them elsewhere.
Let your kid sleep on the floor.  The floor space in front of your seats may be more comfy for your child than the seat. To create some padding fold a few blankets or use some jackets; or if you really plan ahead you could bring a thermarest or pad.
Find out what the baggage restrictions are.  Often you can bring a lot of extra stuff for kids.  Generally you can check car seats for free in additional to your other luggage.  I've even been able to check a playpen/portable bed without additional cost even though I didn't read anything in the fine print about that. As for strollers, checking a stroller may count as one of your bags but gate checking it (bringing it to the plane entrance) is free.
Use pullups for toddlers.  If your little one is potty trained but needs a diaper at night, be sure to slap a pull up on them before a long flight.  Otherwise if they fall asleep you may have a mess to clean up.
Bring healthy snacks and drink containers.  Bringing snacks is vital to keeping kids occupied and happy. Many handy sacks are packed with sugar, and the last thing you need on a transcontinental flight is a hyper child who won't sleep, so check the ingredients. Also bring a sippy cup for the kids. It help avoid spills during turbulence while keeping them hydrated.
Stagger the toys being dispensed. Don't bring out all the toys at once, but introduce new ones every few hours to alleviate bordom.
 Bring headphones for kids.  Ear buds are not designed for kids, so if you want to use the inflight system to entertain your little one, bring over the ear headphones.
Safest Seat.  Being in an airplane crash is pretty unlikely but if you are one of those unlucky few, there are a few things you can do to stay safer.  The rear of the plane is safest especially when you are past the wing; sitting close to an emergency exit improves your shot at getting out in an emergency; and a window seat is more protected than an aisle from falling luggage and roving food carts.
Bring a letter of permission. Solo parents crossing borders often require a notarized letter of permission from the other parent to ensure an abduction taking place.