How University Moulds Us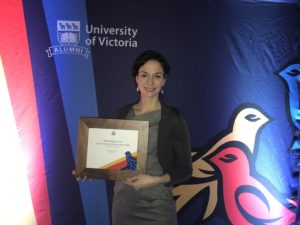 This month I was honoured to receive a Distinguished Alumni Award from the University of Victoria, where I completed my graduate studies in molecular biology. It's prompted me to reflect on what a university education has meant to me and how it sculpted the convoluted path my career has followed.
I was not one of those kids that grew up knowing what I wanted to be. I had few innate skills or driving passions to help illuminate the way, yet I always knew I wanted to go to university.  Perhaps, it's because I'm the product of immigrant parents, who often have expectations for their children to take advantage of all our country has to offer, or perhaps it's because I didn't know what else to do. So with savings from my part-time and summer jobs, along with a student loan, I started my science degree at McMaster University in Hamilton.
It wasn't always easy. The curriculum was hard and managing my coursework while earning money to pay for tuition and living expenses meant less sleep than ideal, but it was exactly where I wanted to be. I found like-minded people, and made more friends in my first month of university than throughout all my years of high school, not due to any sudden popularity but because my high school years had been such a challenge. In University people pushed me to reach higher and I encountered mentors, like Dr. Andrew Rainbow, who encouraged me to pursue research and gave me a research assistant position in his oncology lab. For my third year, I studied at the University of Leeds in England, where I gained new perspectives and valuable skills, such as drinking beer at room temperature and expanding my vocabulary to include loo, chip butty and queue.
University is about so much more than education. It's a place where we can learn who we are, have the freedom to pursue our interests, make friends from a diverse background, and become independent. I am grateful to have had those experiences. It's not something that everyone can or wants to pursue, but for me it allowed me to become who I am.
When I moved to Victoria for my graduate degree in molecular biology, I still didn't know exactly what I wanted to do with my life, but I had a better idea. Those formative years under my graduate supervisor, Dr. Francis Choy, gave me the skills I needed to start my career and navigate the complex route it's taken. In addition to learning about Gaucher disease, protein expression in yeast and molecular evolution of a pseudogene, I learned that you should never stop asking questions, not to give up even though you've failed too many times to count, and that as long as you continue to believe in yourself, you will succeed. Those may not necessarily be the things you go to university to learn, but these life skills are among the many valuable lessons I came away with.
So, for those of you that have the opportunity to further your education, take advantage of it and make the most of it. It's a unique and pivotal point in your life.