Celebrating Female Explorers and Scientists in our Schools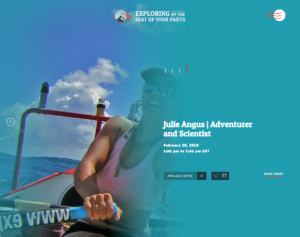 We are lucky to know so many amazing women in science and adventure, from Roz Savage who's rowed 3 oceans and is an advocate for marine conservation to Sarah Outen who circled the world by human power. In February, the world celebrated International day of Women and Girls in Science to shine the spotlight on how important it is for women to enter this field where they are still underrepresented.
To inspire more girls to choose careers in these areas, National Geographic Fellow Joe Grabowski is featuring women explorers through his educational initiative Exploring by the Seat of Your Pants this month.  This free program brings science, exploration, adventure and conservation into classrooms across North America and the UK.  Technology allows live broadcasts from the most remote regions of the planet, connecting students to explorers so they can hear about their endeavours and ask questions.
Julie is thrilled to be one of the guest speakers this month, along with Emily Calandrelli (TV Host and Author), Katy Croff Bell (Ocean Explorer), Shannon Switzer Swanson (Photojournalist and Social Ecologist) and others. The segments stream live and anyone is welcome to view them. You can see Julie on Feb 28th at 1 pm EST at Exploring By the Seat of Your Pants.
We will also be collaborating with Exploring by the Seat of Your Pants to bring our autonomous boat project and Atlantic Crossing into classrooms across North America.  It's an opportunity for students to understand the technology and engineering that goes into unmanned boats, as well as how these boats help scientists better understand the ocean environment.  Plus, it'll be exciting to watch this record breaking attempt, especially if we make it.  But even if we don't, it's a great learning experience.