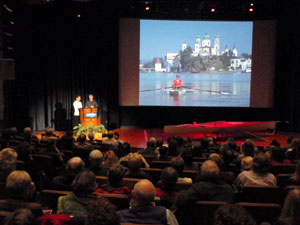 Colin and I are finally back home on Vancouver Island after completing our two-month book/film tour. Our final show was in Washington, DC, and we celebrated by visiting the Terracotta Warriors exhibit at the National Geographic Museum, a display of life-sized clay soldiers and horses created over 2000 years ago by the first Emperor of China.
Our tour was a big success, and it was wonderful getting to visit so many different communities and to meet other adventurous individuals. There are a lot of people and organizations who helped us make this happen and a huge thank you goes out to you all. Also we were happy to have raised over $1,000 for the Living Ocean Society, a Canadian organization dedicated to preserving marine habitat. And congratulations to our grand prizes winners, Aileen Crane of Ottawa and Dan Taft from Victoria, who each received a Helly Hansen Ekolab jacket.
Rowed Trip is now available in the US, and of course still in all Canadian bookstores. You can read a recent book review in the Ottawa Citizen and see us discuss it on Discovery Channel's Daily Planet.  Also I was excited to find out that my book Rowboat in a Hurricane won an award at the National Outdoor Book Awards – Honorable Mention in the Outdoor Literature Category
If any of your friends are thinking about paddling or travelling in Europe or the Middle East, Rowed Trip is the stocking stuffer for them.  Our books are available in bookstores but if you'd prefer the DVDs, you'll find our complete line of expedition films in our online store. The Rowed Trip DVD just became available online today and we have new stock of Beyond the Horizon DVDs, which sold out during our tour. There's still time to receive your orders before Christmas, and any Canadian order over $40 will be sent by priority post and will include a tracking number.
Now that we have the workload of the book behind us, it's time to start thinking about our upcoming projects. Next year we will return to the Middle East to embark on a trek by foot and camel following an ancient trading route through the Syrian Desert. Our journey will end at my family's olive farm in Syria, and will allow me to explore and research the role the olive has played in the development of Mediterranean countries for an upcoming book I will be writing.
Our upcoming expedition is still a long way in the planning. In the meantime, as always, Colin and I will be staying in shape by going for hikes in the local mountains and keeping inspired by following the journeys of others. A project we have been tracking with great interest is the quest of Bertrand Piccard to circle the world in a solar powered airplane. The task of creating an aircraft that can fly day and night exclusively using the energy of the sun severely pushes the limits of human ingenuity and technology. Despite the monumental challenges, this Swiss team has made huge leaps and just a few days ago a major milestone was reached.
We wish you a happy holiday season.