As some of you may know, I've delayed my attempt to break the speed record for circumnavigating Vancouver Island until next summer, but currently there's someone else vying to circle the Island in record time.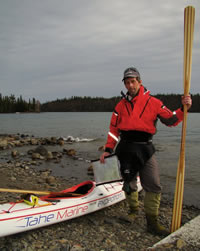 On August 19th, Joe O'Blenis of Thunder Bay, Ontario departed from Nanaimo in a sea kayak hoping to reclaim his title as being the fastest around the rock. His first day was fraught with headwinds, but Joe still managed an impressive 64 km. Since then he's significantly increased his daily mileage, and has been averaging over 73 km/ day. He will need to average 67.6 km/day for 17 days to break the record. We're keeping our fingers crossed, hoping that Canadian Joe will get the title back from Englishman Sean Morley. 
Meanwhile, here on the ranch, I took the newly built rowing boat out on its first run since being painted and installing footplates. I'm pleased with how easily it moves through the water, and was able to reach 14.6 km/hr (8 knots) and could sustain 13km/hr. It's impressive just how far and fast we can propel ourselves with the assistance of technology. I recall being impressed back in my sailing days when my (very inefficient) cruising sailing boat surpassed 6 knots in a gale. Under engine alone, she moved at five knots. So, as I ghosted silently through the water, barely leaving a wake, it seemed surreal to see the figures displayed on the GPS.
Julie, meanwhile, is only able to watch enviously as I play on the water. Like the pumpkins and zucchinis currently ripening in the fields, Julie is getting very large, and our little one is due in a few weeks. Time for the newest adventure!
There are lots of other great adventures going on right now and one that we're keenly watching is Frank Wolf and Todd McGowan's voyage along the proposed Enbridge pipeline in B.C. and Alberta. They're our featured adventure of the month and you can read more about their 1,700 km trek in our previous post.