It's day 5 of Colin's row and he's another 68 km closer to completing it. His goal is to row 70 km every day, and so far he's averaging 77.6 km. Go Colin go!!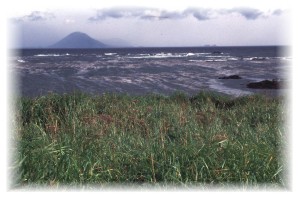 Today the waters were what Colin described as "sloppy".Headwinds besieged him for the first 6 hours and his hands are now covered with blisters.Rowing into headwinds takes much more force and is exhausting, and although Colin didn't complain I know just how hard he must be working.In all the rowing we've done together, he's never gotten more than a tiny blister.
Tonight he's camped on a tiny island in front of Lawn Point Provincial Park. He's on the eastern side of the island where there's a sheltered beach and he easily pulled his boat ashore. Before leaving he scoured the charts searching for safe havens like this one to come ashore to. Most of the western side of Vancouver Island is exposed to the open ocean; waves crash onto the beaches and rocky shorelines making coming ashore in a rowboat dangerous except in the calmest conditions. His charts are annotated with all these shelters and his GPS is loaded with relevant waypoints.
Tomorrow Colin will round the notorious Brooks Peninsula. Leif and I will be watching the satellite tracker carefully and looking forward to our nightly phone call.