Our Autonomous Atlantic Crossing is featured in today's Times Colonist.  Read the article below or on their website.
Victoria couple facing challengers in no-crew Atlantic boat crossing
by RICHARD WATTS  / Times Colonist / Dec. 7, 2017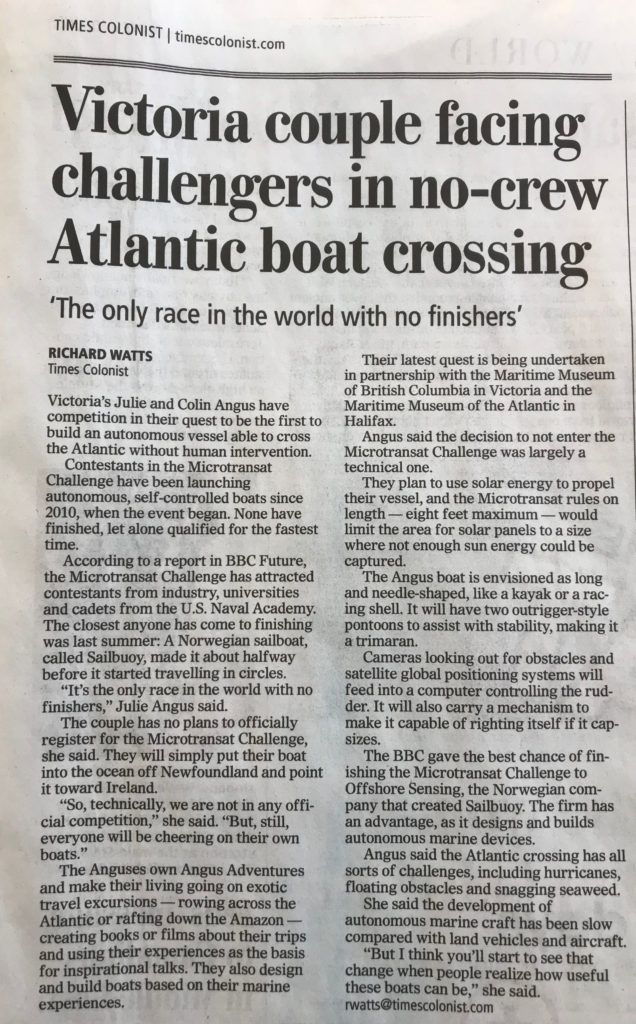 Victoria's Julie and Colin Angus have competition in their quest to be the first to build an autonomous vessel able to cross the Atlantic without human intervention. Contestants in the Microtransat Challenge have been launching autonomous, self-controlled boats since 2010, when the event began. None have finished, let alone qualified for the fastest time.
According to a report in BBC Future, the Microtransat Challenge has attracted contestants from industry, universities and cadets from the U.S. Naval Academy. The closest anyone has come to finishing was last summer: A Norwegian sailboat, called Sailbuoy, made it about halfway before it started travelling in circles.
"It's the only race in the world with no finishers," Julie Angus said. The couple has no plans to officially register for the Microtransat Challenge, she said. They will simply put their boat into the ocean off Newfoundland and point it toward Ireland.
"So, technically, we are not in any official competition," she said. "But, still, everyone will be cheering on their own boats."
The Anguses own Angus Adventures and make their living going on exotic travel excursions — rowing across the Atlantic or rafting down the Amazon — creating books or films about their trips and using their experiences as the basis for inspirational talks. They also design and build boats based on their marine experiences.
Their latest quest is being undertaken in partnership with the Maritime Museum of British Columbia in Victoria and the Maritime Museum of the Atlantic in Halifax.
Angus said the decision to not enter the Microtransat Challenge was largely a technical one.
They plan to use solar energy to propel their vessel, and the Microtransat rules on length — eight feet maximum — would limit the area for solar panels to a size where not enough sun energy could be captured.
The Angus boat is envisioned as long and needle-shaped, like a kayak or a racing shell. It will have two outrigger-style pontoons to assist with stability, making it a trimaran.
Cameras looking out for obstacles and satellite global positioning systems will feed into a computer controlling the rudder. It will also carry a mechanism to make it capable of righting itself if it capsizes.
The BBC gave the best chance of finishing the Microtransat Challenge to Offshore Sensing, the Norwegian company that created Sailbuoy. The firm has an advantage, as it designs and builds autonomous marine devices.
Angus said the Atlantic crossing has all sorts of challenges, including hurricanes, floating obstacles and snagging seaweed.
She said the development of autonomous marine craft has been slow compared with land vehicles and aircraft.
"But I think you'll start to see that change when people realize how useful these boats can be," she said.