One of the things we've learned after spending months at a time in a small boat is just how important eyewear is.  Good sunglasses not only provide comfort and protection from harmful UV radiation, but also enhance vision by cutting glare and exposing hazards under the surface.  For this reason we are very excited to partner with Sundog Eyewear, one of the world's leading eyewear companies.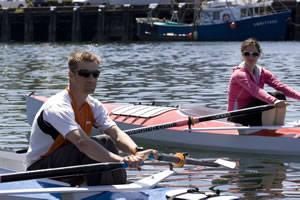 Sundog uses proprietary Mela-Lens™ technology which blocks not only UV radiation, but also HEV (High Energy Visible Light) which contributes to eye damage, fatigue and headaches.  This makes paddling all day into bright sunshine a lot more comfortable.  The Mela-Lens™ combined with polarizing also allows us to see submerged hazards that wouldn't otherwise be visible.
The other important thing is having shades that sit well.  They need to be snug enough so that a wave won't knock them overboard yet feel weightless and conform to your face.  Sundog also excels here with polymethylmethacrylate frames that are lightweight and durable, as well as adjustable padded nose contact points that cater to all face shapes.
We're not the only ones who think Sundog Eyewear is the best.  Runners World recently reviewed leading sporting glasses including Adidas and Oakley, and rated the Sundog Attack as the best.  They found that "this pair is the clear winner, even without considering the modest price," and gave it high rankings in all categories including fit, durability, comfort, and protection.  Read the review.