Today is the first day of summer and, depending on where you are, you may be hoping that the warm weather finally arrives (that's us on Vancouver Island) or that it doesn't get too much hotter (my mother in Hamilton). We've had a few nice spells but it's been windier, wetter and cooler than usual, which makes for mediocre rowing conditions – at least if you're trying to set a speed record. Speaking of speed records, Colin has decided to postpone his attempt at circumnavigating Vancouver Island until next year due to an upper back/neck injury that's been acting up in his training. It's essential that his physical state is at 100% before attempting an 1150 km marathon row.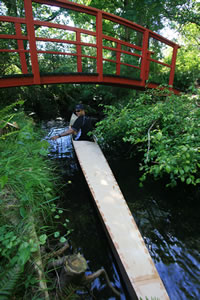 Despite the setback, Colin is confident that his back will soon be on the mend, and is now aiming for a June departure next spring. In the meantime, he's almost finished building our latest design – a sleek rowing shell – which he will be using to try breaking another speed record following the Vancouver Island circumnavigation.
Our new boat, the Cambridge Racer, is a 24 foot marine plywood and fibreglass build which is designed for speed while still being relatively stable.The boat is now in its final stages of construction with just the sliding seat and oarlocks still to be installed.After laying the final coat of epoxy on the hull, Colin couldn't wait to float the boat, and launched in the creek in the back yard.But the real excitement will be in a few weeks time when we test row it in Comox Bay.
Our Expedition boats have also been getting wet and last week we explored Mohun and Morton Lakes, part of the Sayward Forest Canoe Route just north of Campbell River.We put our boats in at the boat launch in Morton Provincial Park and rowed to the southern tip of Mohun Lake, where we camped on a small island.The island was cloaked in old growth trees and thick vegetation, making exploratory excursions from our campsite a fun challenge.We cooked dinner on a campfire as loons trilled beneath a setting sun.Besides a couple fishermen in aluminum boats (the lake is stocked with cutthroat trout) we had the place to ourselves (that is if you don't count the loons, eagles, ducks, stellar jays and mice that raided our sandwiches in the night).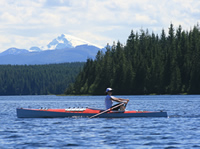 We've also been travelling a fair bit for various speaking engagements, ranging from government conferences to school retreats to conservation-themed events. This weekend we'll be at Canadian Author's Association conference (Canwrite) in Victoria to give the dinner keynote and enjoy a great schedule of events. The Canwrite conference is open to the public and a there is a wide range of speakers and seminars. Details can be found here.
There's always a lot going on in the world of adventure travel and a few expeditions we've been watching have come to an end. Reid Stowe spent 1152 days nonstop at sea, the longest continuous voyage ever, and finished his epic voyage dubbed The Mars Ocean Odyssey when he pulled into New York harbour on June 18th. And Abby Sunderland, who was attempting to be the youngest to sail around the world, unfortunately broke her mast in the southern ocean and had to be rescued, bringing her expedition to an end (not to be confused with Jessica Watson's successful circumnavigation completed last month). This month's featured expedition is also water themed with a strong message of environmental stewardship. David de Rothchild and a small team are crossing the Pacific Ocean in a catamaran made out of used plastic pop bottle and other recycled materials in order to highlight the impact plastic waste is having on our seas. Read more about him and the Plastiki in our previous posting.