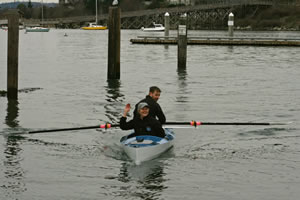 We've been so wrapped up in the excitement of the Olympics and preparing the Angus Rowboats plans and kits that our February update is more than fashionably late. But that doesn't mean we don't have good news to report.
We've resumed rowing after a long hiatus and it's great to be back on the water. Colin's started training for his around-Vancouver-Island row with four-hour non-stop rowing stints. In comparison, my rows are leisurely jaunts exploring the nearby estuary and beachfront. If you want to hear about our earlier rowing journey through Europe, you can listen to our latest interview with Shelagh Rogers on The Next Chapter where we discuss rowing, writing and relationships.
Apart from our training, for the last month we've been working non-stop on completing the Expedition Rowboat plans and kit (well, except for watching Olympic hockey, skeleton, snowboard cross, etc…). The good news is we're finally done! The plans are laid out on seven sheets of 24×36" paper and extremely detailed with full-sized templates for all the tricky parts. And the manual is a mini-book. It's over 50 pages with dozens of diagrams and photographs from the different stages of the building process.
The kits are also ready!The wood components are being precision cut on a CNC machine and will be ready to be shipped along with all the other materials (fibreglass, epoxy, hatch strapping, and dozens of other bits and bobs) that you need to build the boat.It's like assembling IKEA furniture, except the instructions are a whole lot better.Okay, maybe it takes a little longer.If you're a first time boat builder, it'll take you about 100 to 120 hours.
The kits and plans will be available at www.angusrowboats.com on Feb 26th. There is a waiting list for the kits and if you have not already spoken to us about purchasing a kit, check back on Feb 28 to see the approximate wait time to receive your boat. There won't be any wait for plans. Oars and other accessories will also be available.
As always, we're captivated by a number of exciting ongoing expeditions. You may remember our past updates on Jessica Watson, who at 16 is attempting to be the youngest person to sail around the world solo.Well, she's getting close to completing her journey.She's been out on the water for over 4 months since starting in Australia and is now just 250 nm from the Cape of Good Hope – two thirds of the way there!
There must be something about 16 year old girls and sailing, because Jessica is not alone in her attempt to break that record. Abby Sunderland, also 16, of Thousand Oaks began her journey in California in January and has just crossed the equator en route to the Horn. If her name sounds familiar it's because her brother Zac Sunderland recently completed a solo circumnavigation at the age of 17, becoming the youngest to do such a trip. He held that title for about six weeks, until Mike Perham of Britain, also 17, completed the journey at an even younger age. It looks like Abby is keen to reclaim that title for her family and good luck to her!
Now we have to get going because the Canada vs. US hockey game is about to start. Go Canada!!