Our next big adventure, spending three months exploring the Mediterranean in a small boat to learn about the origins of the olive, commences in exactly five months. With the prospect of having little Leif along for this journey (he'll be nine months old when we begin), we thought it prudent to do a mini-expedition to learn what living light with a small baby is like.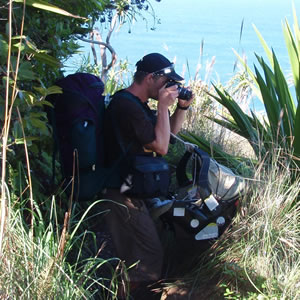 Last month we trekked the infamous 40 km (round-trip) Kalalau trail along Kauai's remote north shore. While 40 km alone in balmy temperatures isn't too much of a challenge, the Kalalau trail is rated as a class ten hike, and listed as one of the USA's ten most challenging treks.  The trail follows the rugged Na Pali coastline through some of the most dramatic scenery Hawaii has to offer. The narrow trail alternates from exposed ten-inch-wide ledges with 150' exposure to muddy passages through lush hanging valleys.
We needed to be self sufficient for the trek, which we expected to take three days.  On top of the basic backpacking gear and food required, we were also carrying Leif and the miscellany required to keep him a happy baby.  One gear item we struggled with was the type of child carrier to use.  Safety was at the forefront of our concerns, but no off-the-shelf carrier seemed to meet our needs.We have two front carriers but they offer very little protection.  I imagined stumbling on the rugged trail, falling forward onto a boulder and crushing Leif, not only with my body weight, but also that of my heavy backpack. We also have a framed back carrier, which would offer more protection, but Leif isn't old enough to fit in it yet.  Plus it doesn't allow us to simultaneously carry a backpack.
Eventually, we decided the car carrier would be best.  He can be strapped securely in, and is protected on most sides with plastic. This would be much more awkward and heavy than our front carriers, but infinitely safer. Colin strapped the car seat to the front of his backpack, and we were off.
The great thing about the Kalalau Trail is that it is the only way to reach this rugged paradise. There is no road to this viewpoint and it is one of the best Hawaii has to offer.  Sure it's a lot of work, but our efforts quickly paid off.  There were remnants of stone buildings from early Polynesian habitation, and wild goats and pigs, also left behind by these early settlers.  Each bend offered a panoramic view. The serrated mountains and lush vegetation looked like the backdrop for Jurassic Park, which it was.  Avatar, Lord of the Rings and Tropic Thunder are also on the not-insubstantial list of movies filmed here.
People were shocked and delighted when they saw us on the trail with Leif. "Lucky baby, strong Dad", was a frequent refrain.I don't know how Colin did it. Somehow he was able to carry Leif over terrain that would make a mountain goat nervous, and he didn't even stumble. Leif also seemed to enjoy it.  He loved camp time when we lavished him with attention and he played with an assortment of twigs and leaves. During the day he slept for long periods as he was carried forth like a Prussian Princess. The only time he got agitated was when the heat became too intense (he's a cold-loving baby), and then we cooled him in the shade with drops of water and fanning. Overall, it was a fantastic experience, and we discovered that Leif is even better behaved and happier when we're travelling.
In other news, I'm currently finalizing our itinerary for our Olive Odyssey and developing the website which is now online at www.oliveodyssey.  We'll be posting regular updates of our journey here.  In April we're doing a five city film and speaking tour to fundraise for the upcoming expedition.  If you are interested in the Amazon or South America, this is a great opportunity to see a rare presentation. Colin's expedition down the Amazon River made his team the first to voyage it by raft and the third by any means.  He'll be showing some never-before-seen photographs, and the team's award-winning National Geographic film of the expedition. Read more about this Vancouver Island and Vancouver tour.
Happy Trails.